The family / group sailing weeks enable you to learn to sail or just have a great sailing 'staycation' as a family or group of friends. This is ideal flotilla preparation or preparation for taking your family or mates on your first bare-boat charter in the mediterranean or further afield should you desire. Sailing together or learning how to sail, being involved in the day to day running of the boat, preparing lines, hoisting sails, navigating the waters safely and most importantly having fun.
These weeks can be between 5 - 7 days and can be tailored to meet your requirements, we can stay in the exciting and busy waters of the Solent and visit some of the beautiful harbours on the Isle of Wight and New Forest or for the longer trips perhaps cross the channel and investigate Northern France or the Channel Islands.

These trips are all skippered by an RYA qualified instructor so RYA qualifications can be undertaken during the holiday. Prices are from £2850 for a 5 day trip and are all inclusive for up to 6 people (5 if RYA qualifications are being taken).

The price includes all food on board (three meals a day plus snacks), mooring fees, fuel and use of waterproof clothing.

You could also book any 5 or 7 day period during 2022 where we have availability.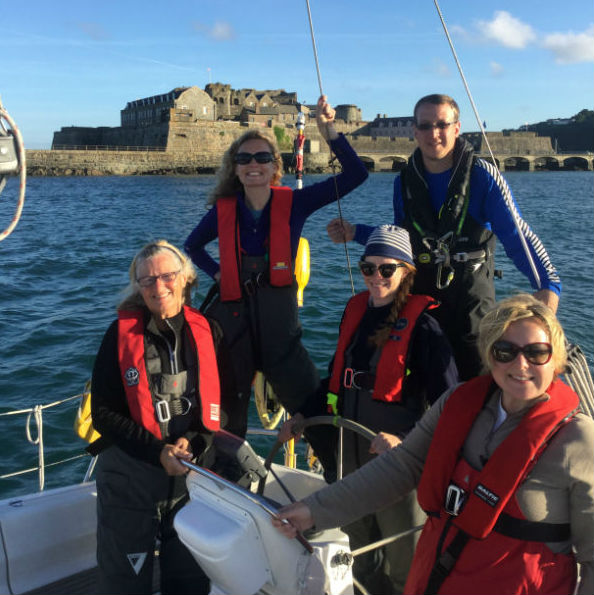 How do I book?
Check out the available course dates and then contact us or book online. If you have any questions please don't hesitate to contact Lou or Jim for more information.
Course Name
Dates
Cost
Retrieving course dates
Testimonials
Great way to introduce the whole family to inshore sailing. We're not quite ready to join a flotilla under our own steam, so this seemed to be the next best thing - a skippered charter kept us on track and out of trouble. Balance of on and off water time was perfect for the young ones and the changing locations along the Solent kept everyone interested and involved. Found Nomad team a pleasure to deal with - highly recommended.
We thoroughly enjoyed the Competent Crew and Day skipper sailing course that we completed as a family in August which rekindled our love for sailing and confidence in our own abilities. The course configuration was just right and we were able to put theory into practise. We were all involved in every aspect of sailing the boat and the important task of making tea!

The week was fun with time to relax with an rest at anchor in Osborne Bay for a swim, we watched a race at Seaview, in fact we became one of the race markers, conducted a night sail in the style of Apocalypse Now and had the unique opportunity to join the flotilla welcoming sail the Queen Elizabeth Aircraft carrier into Portsmouth for the first time. Everything on board was organised and surprisingly comfortable with TV and pillows included - you just need a sleeping bag and clothes that are easy to wear to move around the boat. All the meals were provided and were really tasty.
Jim was a great mentor and is really committed and passionate about sailing and an enthusiastic teacher - we learnt lots and had a brilliant time.
We are now ready to join a flotilla in Greece or maybe charter a boat and bimble about the Solent.